Lynn has ridden at Provincial Team level several times on various horses from as early as 1994, as well as SANEF/DSA Challenge Teams up to Intermediate level. Lynn won the World Dressage Challenge in Advanced level in 2002 and tied 2nd in 2003. Her most recent accomplishments are the Prelim level trophy for both Vybrant and Gauteng for the year of 2019 and 2nd for the Vybrant Advanced level 2019.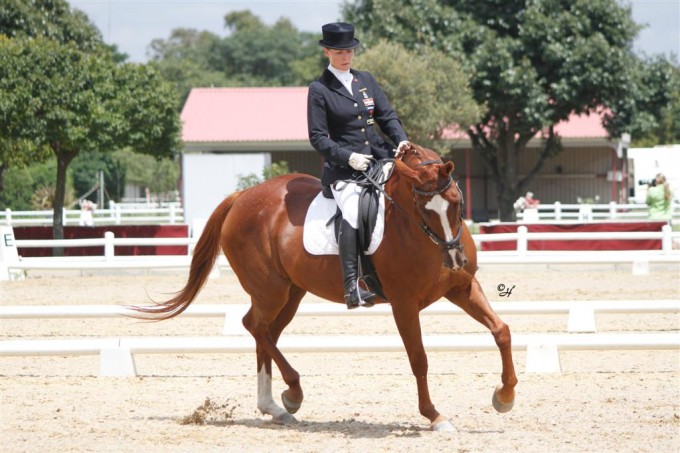 What Lynn says about training horses and riders
I grew up around horses on a farm and have always been responsible for the care of my own horses. I used to feel that if only l could have more lessons and have someone tell me how to ride an exercise or movement l would be sure to be able to do it. Then, l began to realise that no trainer could tell me how to do it. It takes more than that to be a good rider or a good coach, or even a good horse. The main ingredients are integrity always, along with tenacity.
Integrity – honest strong principles, whole undivided hard work, responsible, respect, trust, humility and consistent, patient assistance and service. That is integrity, and what all good coaches, riders and horses need to learn to offer as a team effort in order to produce excellence.
Tenacity – way better than talent, always ready to try again, and tomorrow yet again.
As a coach of riders, or a trainer of horses l am challenged to communicate the mix of science and biomechanics. Along with that goes the ethereal thing we call feeling, and a whole pile of horse and human psychology. I must direct all of this towards achieving the ambition of my client, and possibly lead them to achieve more than even they thought possible. All the while this needs to be presented in an enjoyable, stimulating manner with a healthy pinch of challenge for horse and rider. Not too much but just enough.
My pleasure in working with horses and riders stems from my own enjoyment of striving for excellence. Excellence is not defined by Olympic medals, but rather by reaching the ambition of the rider and maximising the ability and beauty of the horse. No ambitions are small.
In the equestrian world a good coach can change your competition, but a great coach seeks to change the life of both horse and rider. Always for the better, for both.
email lynn@nullchikara.co.za or call +27 63 692 1357 for more info and to book your lessons!