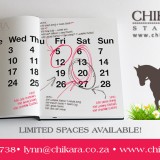 Due to some reshuffling as riders progress, Lynn and Meryl have some very rare spots available for lessons!
M has 2 spots available in her Friday 2:30pm intermediate adult group lesson (jumping up to 70cm, and prelim dressage)
She also has ONE 3pm Saturday private slot for a nervous/beginner/rusty adult.
Lynn has TWO Saturday morning slots and ONE Wednesday afternoon slot available for beginner to advanced dressage riders.
Email lessons@nullchikara.co.za to book or for more info
STRICTLY FIRST COME FIRST SERVED!